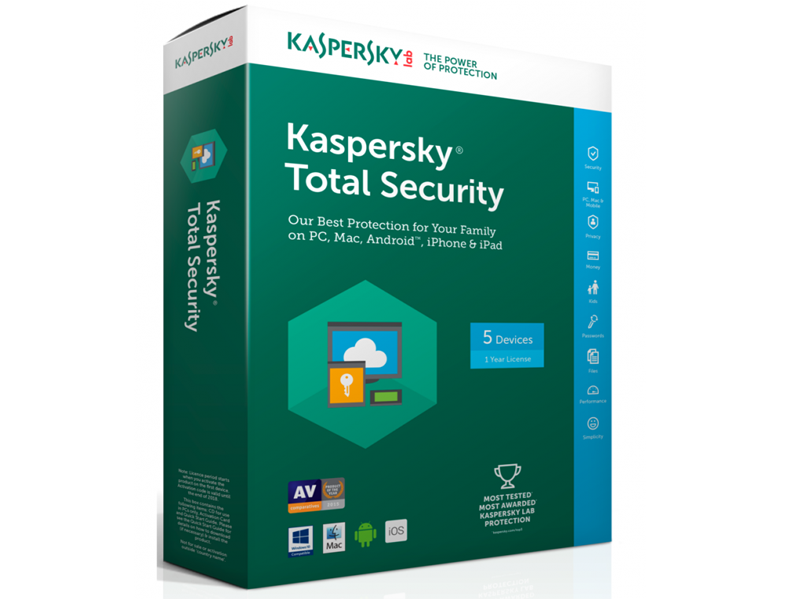 Kaspersky Total Security
Number of licenses
1 year
2 years
1
62,46 €
(470,60 kn)
109,22 €
(822,92 kn)
2
35,11 €
(264,54 kn)
61,17 €
(460,89 kn)
3
26,00 €
(195,90 kn)
45,49 €
(342,74 kn)
4
21,44 €
(161,54 kn)
37,44 €
(282,09 kn)
5
18,70 €
(140,90 kn)
32,75 €
(246,75 kn)
Exchange rate €/kn: 7,53450
Prices are in HRK and EUR, without taxes.
Price depends on number of licenses and time period.
For inserting items to cart click on icon .
---
Kaspersky Total Security - Multi-Device provides the ultimate protection for PCs and mobiles... protecting your privacy, finances, identity, photos, files and children - on your PC, Mac and Android devices.
- protects against today's Internet threats
- Provides ultimate protection for different types of devices
- Protects your privacy
- Adds security to online banking and shopping
- Secures your identity, photos, files and more
- Protects children when using the Internet
- Simplifies security management
- Combines protection and performance